How to Determine the Best Choice for Your Next Event
Since you may be actively seeking an ADA ramp rental for your next function, you will want to take a moment to discover just how well wheelchair ramps stack up to ADA lift rentals before making your final decision. For example, ADA wheelchair lift rentals will provide the exact same level of accessibility as ADA ramp rentals, along with offering a myriad of additional benefits that wheelchair ramps simply just can't match.
This is the case no matter what type of event you intend to host – including conferences and trade shows, sports events, concerts and music festivals, rodeos, parties and graduations, among many others. That's why lift rentals have been skyrocketing in popularity over the past several years for events of all shapes and sizes throughout the United States.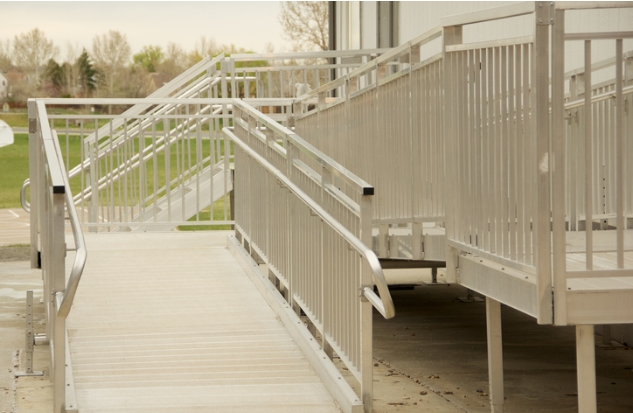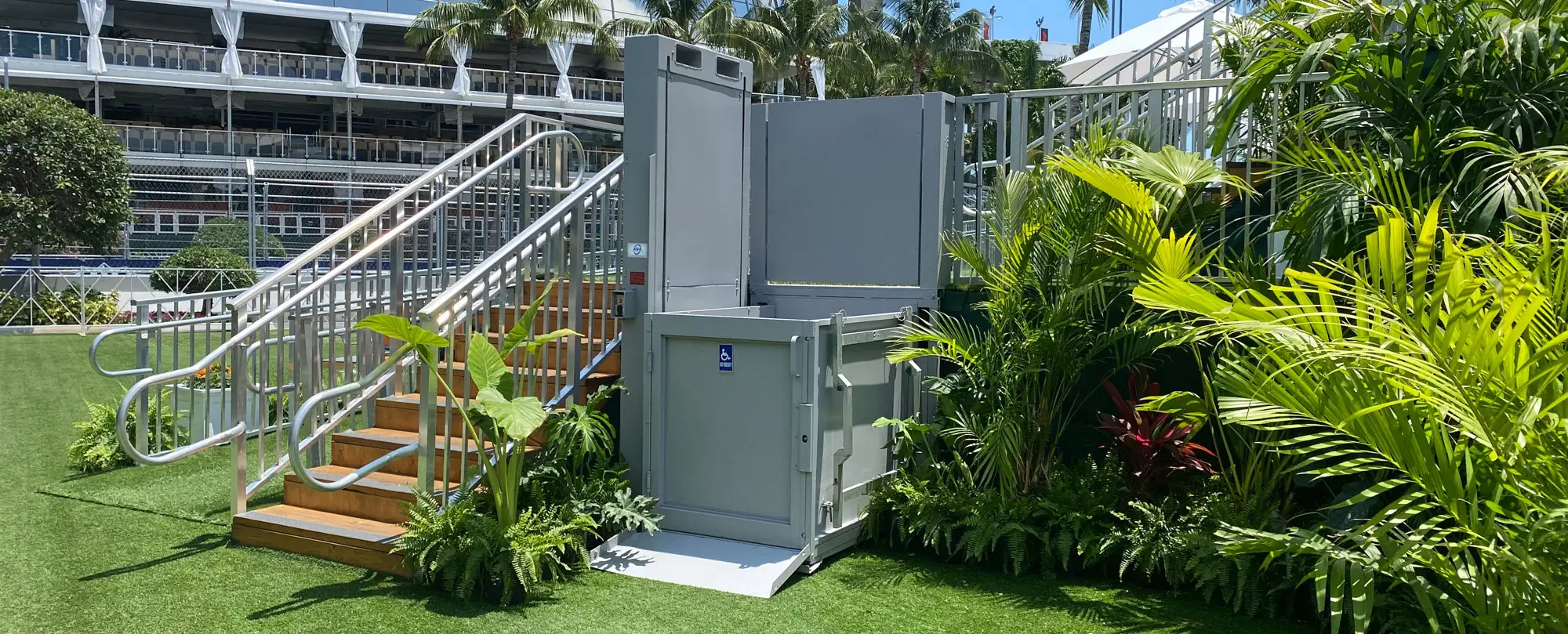 4 Reasons Why an ADA Ramp Rental Might Not Be Your Best Option
Here are four solid reasons why an ADA lift rental makes a better choice than an ADA ramp rental for your next event:

Takes Up Much Less Space
A portable, vertical wheelchair lift can take up significantly less space than a long and bulky ADA ramp rental. With a ramp, you typically need a minimum of one-foot length section of ramp per one inch of rising to accommodate a person in a wheelchair safely and comfortably. Lengthy wheelchair ramps consume valuable space needed for smooth traffic flow.

Involves Less Effort
Wheelchair lifts allow you to ride vertically quickly and easily to the top instead of maneuvering a long and sometimes winding ramp that may need to overcome large elevation changes. In addition, a wheelchair lift can typically be operated without any assistance whatsoever, while a wheelchair ramp usually requires assistance.
Provides a Safer Alternative
Since a wheelchair ramp requires constant forward motion, attempting to navigate the slope of a long ramp with a wheelchair can be a dangerous ordeal. This problem is only compounded by the appearance of rain or any other inclement weather. In contrast, with a sturdy and durable wheelchair lift, the rider simply gets onto the secure platform and safely moves to the upper landing with the push of a button.

Requires Less Assembly and Installation Time
Because wheelchair lifts require less assembly and installation time than wheelchair ramps, they can be up and running at your event in no time. In addition, wheelchair lifts require much less teardown time and can be removed quickly at the conclusion of the event.
In addition to wheelchairs, ADA lift rentals also can be used by event attendees with scooters, walkers, canes, and most other devices that aid in walking or mobility. This will enable every attendee the same opportunity to enjoy your event.
ADA Lift Rentals

Quick and Easy Assembly and Installation

Requires Little Space at Events

Can be Operated Without Assistance

Safe and Easy to Use

No Effort Required
ADA Ramp Rentals

Time-Wasting Assembly/Installation

Consumes Valuable Space at Events

Typically Requires Assistance

Inclines Pose Safety Risks

Requires Physical Exertion
Lift Rentals Offer the Sensible Solution Over ADA Ramp Rentals
When it comes to the ongoing ADA ramp rental vs. ADA lift rental debate, the choice is clear – portable ADA compliant wheelchair lift rentals from ADA Lift Rentals of America are the way to go!
Why some of the country's biggest events use ADA Lift Rentals of America:
Full-Service Provider of Temporary Wheelchair Lifts
Both Indoor and Outdoor Venues
Available Anywhere in North America
Large Inventory of Wheelchair Lifts
Both Short- and Long-Term Contracts Available
Expert Installation at Any Type of Event
On-Time and On Budget
At ADA Lift Rentals of America, our high-quality ADA wheelchair lifts comply with ADA standards of safety and can be installed at any type of indoor or outdoor temporary event venue anywhere in North America such as arenas, stadiums and grandstands. Our ADA lifts are available in three different sizes to match your venue: six feet, 12 feet, and 14 feet. A trained technician will assist you to help with any situation that might arise throughout your entire event.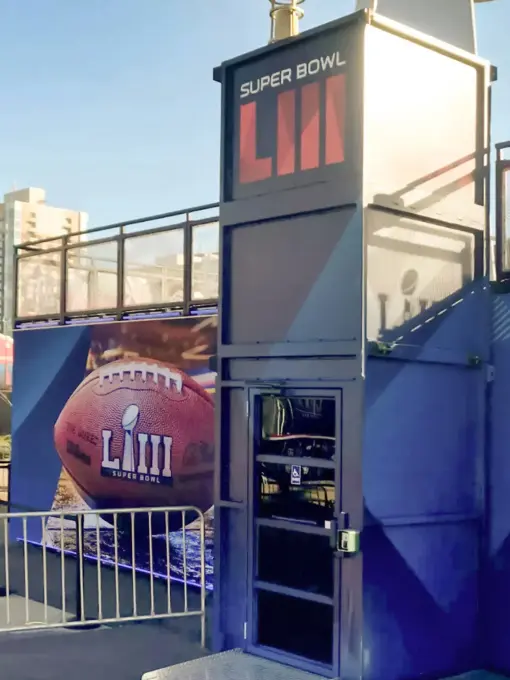 Rent the Most Reliable Portable Wheelchair Lift for Your Next Event
With nearly 10 years of experience in the industry, ADA Lift Rentals of America provide the most reliable ADA temporary wheelchair lifts, along with unmatched expertise and world-class customer service. We'll make all areas of your event easily accessible for people with disabilities or mobility issues. Our wheelchair lift rental experience encompasses Super Bowls, NASCAR races, Walt Disney World Resort events, PGA golf tournaments, Olympics, NBA and NFL games, and much more.
For more information about how our safe and reliable wheelchair lift rentals will enhance your next event, contact ADA Lift Rentals of America today!
Frequently Asked Questions
Both ADA ramp rentals and lift rentals provide accessibility at event venues. However, lift rentals offer the best choice since they take up a much smaller space, require less effort and provide a safer alternative, among other benefits.
The cost of either an ADA ramp rental or ADA lift rental depends on several factors such as the nature and size of the event, as well as the lifting height required. Contact ADA Lift Rentals of America for more information about getting an estimate for a lift rental for your upcoming event.
With nearly a decade of expertise, ADA Lift Rentals of America provides the most reliable wheelchair lift rentals anywhere in North America. Contact us today to reserve a lift rental for your next event.
"The special event industry is always full of surprises when It comes to final execution. We are fortunate to work with ADA Lift Rentals who partners with us in the final stages of each build with on time delivery, ability to work through site issues and professionalism unmatched in the industry. Their level of detail and communication is evident with each rental. We highly recommend ADA Lift Rentals for your temporary ADA lift needs."

Danny Ellis • National Sales, InProduction